Paint in Belmont, NH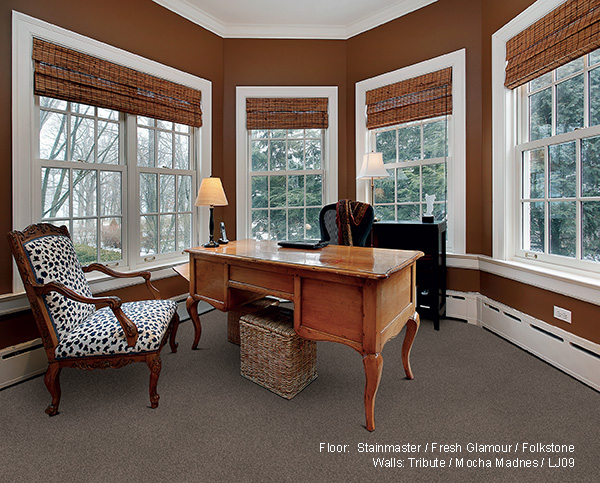 A new floor isn't the only way to achieve a new look. If you're looking to update your walls instead, shop our selection of top-quality paint in Belmont, NH. We carry unlimited options when it comes to color and stock an impressive amount of wallpaper too. From tried-and-true neutrals to eye-catching vibrant tones, we have something to please every preference. Let our dedicated staff members know what you're looking for and they'll be happy to help you find it.
If you're looking for wallpaper, you'll be happy to know that we can not only help you with selecting and purchasing it, but also installing it. Putting up this product is not easy, but when you hire a professional wallpaper installation service, the work is done for you by people who know how. The final product will be seamless and fit right in, and you'll save yourself tons of time and trouble. With work as delicate as this, you want to know it's done right.


Interior Paint for Every Need
Picking the right color and type of paint can be more complicated than it sounds, especially for a first-time homeowner. They have to work well with the lighting and last long while still promoting the theme you're going for. In order to accomplish these goals, we only sell reliable paint brands that let you steer clear of fading or peeling issues. We can help you find the perfect fit for your home by explaining what each one can offer. Our products are available in flat finish and eggshell finish for different results, and we even sell paintable wallpaper so you can have the design and texture you want. You can choose from traditional to floral to something completely unique to you. Our store and staff are here to help you get creative.


The Ideal Source for All of Your Projects
Our local store has helped many a homeowner accomplish all kinds of feats in their homes. Whether it's putting down a new floor or upgrading their window treatments, we have all of the experience and supplies needed to make it happen quickly and smoothly. Wallpaper and painting are no different. We offer everything you need from start to finish and love helping our clients make their homes the best they can be. Whether you know exactly what you want or don't have a clue where to start, we work with you to get the job done.



Contact us to explore every kind of wall color and covering, from fun to formal. We're open to clients from Belmont, Laconia, Gilmanton, Wolfeboro, and Moultonborough, and most of Central New Hampshire.